Products
Burial Vault Liners
Customer Testimonials:
"Those shipping charges sound great to me!!!!
....We have to leave now to service a funeral today. Thank you very much and you have a good weekend!!!!!" - Liddy
"Our corporation buys your liners because of the price and speed." - Tom
"Our company is small, you made us feel valued and important." - Karen
Call for pricing. The best value in the industry.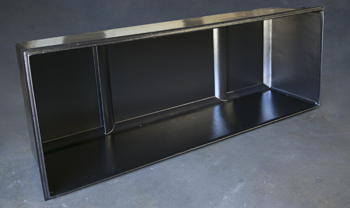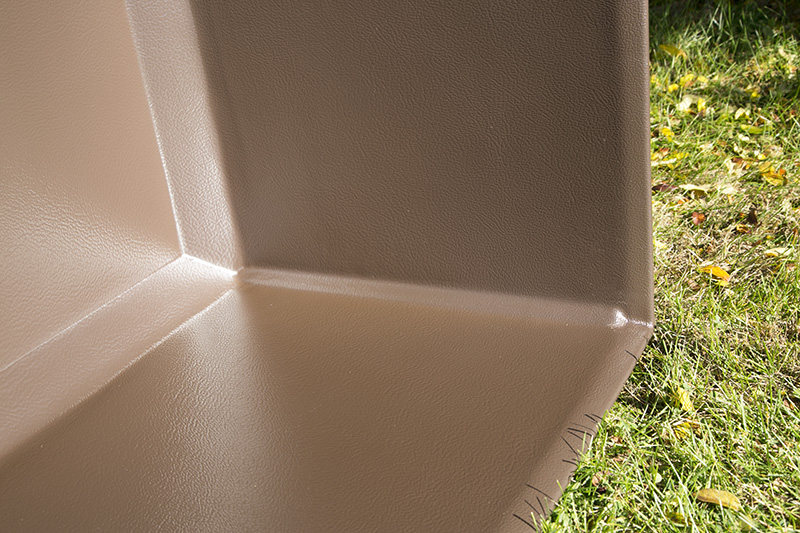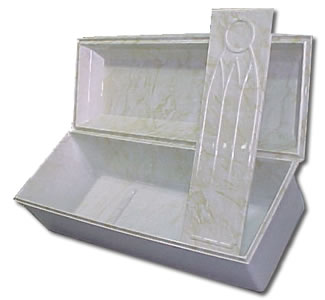 Change for the Better
More styles to fit the forms that you have.
Contact Indiana Vac Form to see if we have the liners for you.
Indiana Vac Form announces an addition to our burial vault liner products. IVF has been a long time maker of high-quality generic vault liners. Now IVF offers a complete liner set that fit new style casket concrete forms.
The new style features high-quality high impact Poly Styrene plastic material. While the new bottoms are compatible with the casket riser fit, they do not have the riser undercut for internal lifting.
The new casket concrete form liners are available in Brown, Black, White Marble and Pink Marble. The white marble and pink marble liner sets include decorative carapaces in the traditional church window and rose design.
Indiana Vac-Form makes high quality Burial Vault Liners. Since 1977, Indiana Vac-Form has been a quality supplier of thermoformed products.
We offer many ways to get the style of Burial Vault Liner that you need; click here to read more information about our Burial Vault Liners.
IVF offers liner styles to fit many forms intended for use with Styrene or ABS plastic liners including many franchise type concrete forms. Please, call to ask if our liners fit your forms.
Informational Links
For more info click here: DM Vault Forms and Burial Vault Molds
For more info click here: Molds of Bethlehem, Inc.
For more info click here: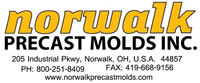 Please call or fax today!
Telephone: 574-269-1725
Fax: 574-269-2723

---
Cremation Urn Liners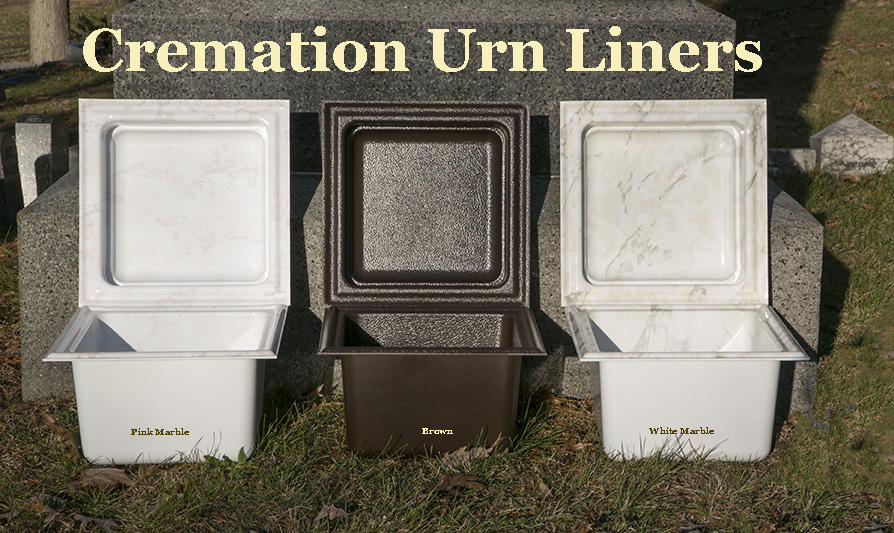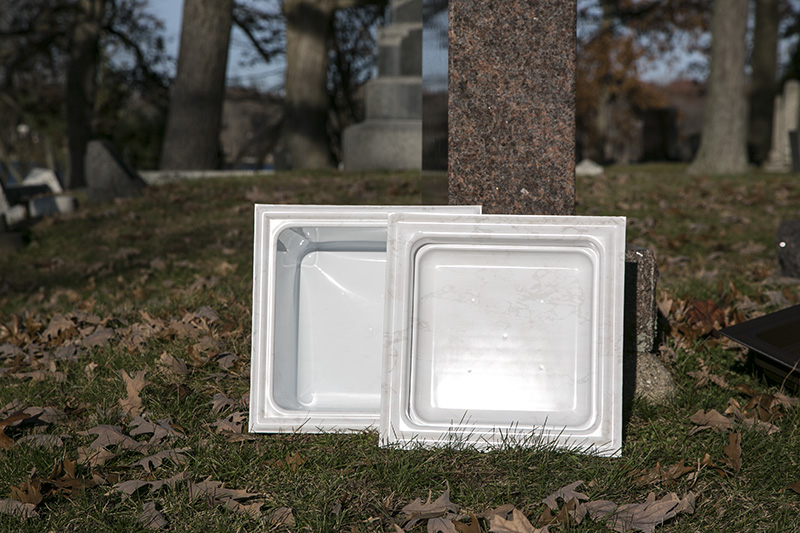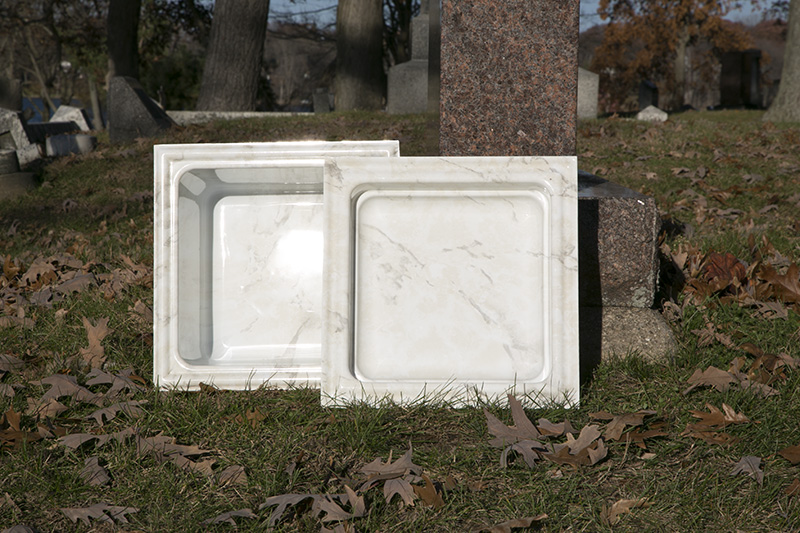 | | |
| --- | --- |
| Brown Urn Vault Liner Sets | Call for Price |
| White Marble Urn Vault Liner Sets | Call for Price |
Please call or fax today!
Telephone: 574-269-1725
Fax: 574-269-2723

---
Watershed Refuse Lids
This is a new low-profile polyethylene Thermoform lid system for steel refuse containers that sheds water off of, rather than into the container. Stop paying to dump water!
Buy now and get low introductory prices for single and multiple lids. Get even deeper discounts for volume purchases. See the special offers below!
Indiana Vac-Form serves municipalities, corporations, container manufactures and container re-furbishers, restaurant chains, and super stores.
Twenty-five years ago, Indiana Vac-Form and Par-Kan Industries introduced some of the first polyethylene refuse container lids to America for the refuse industry. Today, IVF continues to innovate with the new Watershed family of lids including the Rear Loading Model Numbers WSRL28, WSRL38 and WSRL43.
How much water do you dispose of each year? Call for truckload pricing - up-to 7,000 lids. Compare!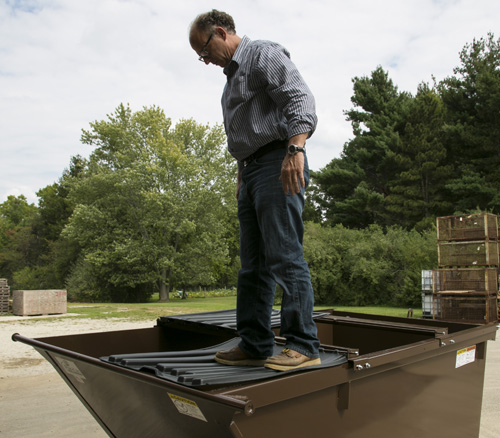 Watershed Handle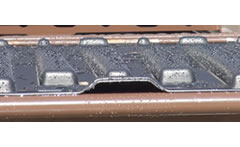 Watershed Hinge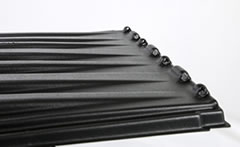 Terms:
FOB Warsaw, IN 46582
Net 30 days with approved credit. Call for application today.
Credit card orders, please add 3%.
Special Offers:
Buy a full truckload and get FREE Thermoformed Company Logo or Name. Size and design limitations may apply.
Logistics:
Pallet 75 Lids.
Truckload up-to 7,000 lids. Please call for pricing and shipping estimate.
Features:
Uses recycled High Molecular Weight Polyethylene material.
Improved hinge area design provides longer wear life.
Low profile.
Ribbed design to add strength.
Large handle fits gloved hands easier.
Nests when stacked
Benefits:
Sheds 70 % more water than the competition.
ANSI weight and size compliant.
Saves on shipping costs.
Reduces storage space.
Keeps water and water-weight out of the container.
Facilitates ease of assembly for manufacturers.
Better fit for small, medium and large containers.
Strong, yet lighter.
Sizes:
Small: 31" x 28" - Model No. WSRL 28
Medium: 31" x 38" - Model No. WSRL 38
Large: 31" x 43" - Model No. WSRL43
Pricing
| | Singles | Full Skid* | Volume |
| --- | --- | --- | --- |
| Small | $14.89 | $12.74 | Call for Quote |
| Medium | $17.39 | $14.92 | Call for Quote |
| Large | $18.62 | $15.99 | Call for Quote |
*75 per skid
Please call or fax today!
Telephone: 574-269-1725
Fax: 574-269-2723

---
Platform Duck Feeders
Duck feeders for large or small duck farms. The standard (larger) model, for growing ducks, is approximately 43 3/4" in diameter by 4 1/2" high at the feeding level. The short model, for starter ducklings, is approximately 32 3/4" x 2 1/2".
Sanitary
Easy Clean
Safe Smooth Finish
Improve Feed Efficiency
Helps Prevent Crowding
High Molecular Weight Polyethylene
Long Life
Evenly Distributes Feed from Center
Range Feeding
In-door Feeding
Chemical Resistant
Call for pricing!
Telephone: 574-269-1725
Fax: 574-269-2723

Testimonials
"We like how the feed waste has been reduced with this product." -Culver Duck Farms, Inc.
"This product has been very effective and is used on most of our farms." -Culver Duck Farms, Inc.